Treehouse hotels have been gaining popularity over the years, and it's not hard to see why. These unique accommodations offer a one-of-a-kind experience, allowing guests to immerse themselves in nature while still enjoying the luxuries of a hotel stay. Nestled high up amongst the treetops, treehouse hotels offer breathtaking views and a sense of tranquility that is hard to find in more traditional lodging options.
What makes a Treehouse Hotel so special?
One of the most appealing aspects of staying in a treehouse hotel is the feeling of being completely immersed in nature. These hotels are often built in remote locations, away from the hustle and bustle of cities and towns. This allows guests to disconnect from the outside world and fully embrace the natural beauty that surrounds them. The peaceful atmosphere and fresh air can be incredibly rejuvenating, making treehouse hotels an ideal destination for those seeking a break from the stresses of daily life.
Another unique aspect of treehouse hotels is the architecture. These hotels are built to blend seamlessly into their surroundings, often incorporating the trees themselves into the design. Some treehouse hotels are built around a single tree trunk, while others are supported by multiple trees. The result is a stunning, eco-friendly structure that is both functional and beautiful.
The Amenities of a Treehouse Hotel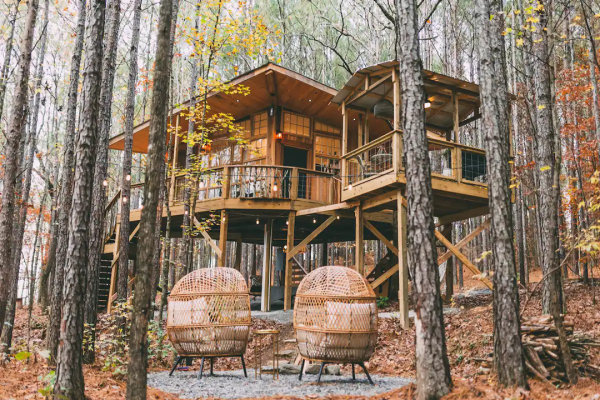 Despite their rustic appearance, treehouse hotels offer a wide range of amenities to ensure that guests are comfortable during their stay. Many treehouse hotels include features such as hot tubs, fireplaces, and luxurious bedding to provide guests with a comfortable and relaxing experience. Some treehouse hotels even offer spa services and gourmet dining options, making them a true luxury escape.
One of the most appealing aspects of staying in a treehouse hotel is the opportunity to disconnect from technology and reconnect with nature. Many treehouse hotels do not have televisions or internet access, encouraging guests to spend time outdoors and take in the natural surroundings. This can be a refreshing change of pace for those used to being constantly connected to their devices.
Where to Find Treehouse Hotels
Treehouse hotels can be found all over the world, from the rainforests of South America to the forests of Scandinavia. Some popular destinations for treehouse hotels include Costa Rica, Thailand, and the Pacific Northwest region of the United States.
One of the most well-known treehouse hotels is the Treehotel in Sweden. This hotel features several unique treehouses, including the Mirrorcube, a reflective structure that almost disappears into the surrounding forest. Another popular treehouse hotel is the Free Spirit Spheres in Canada, which offers guests the opportunity to stay in suspended spheres high up amongst the trees.
Treehouse hotels offer a one-of-a-kind experience that is hard to find in more traditional lodging options. From the stunning architecture to the peaceful atmosphere, treehouse hotels provide guests with a luxurious escape that is sure to leave a lasting impression. Whether you're looking to disconnect from technology or simply immerse yourself in nature, a stay in a treehouse hotel is an experience that should not be missed.